5 SENSES DESSERT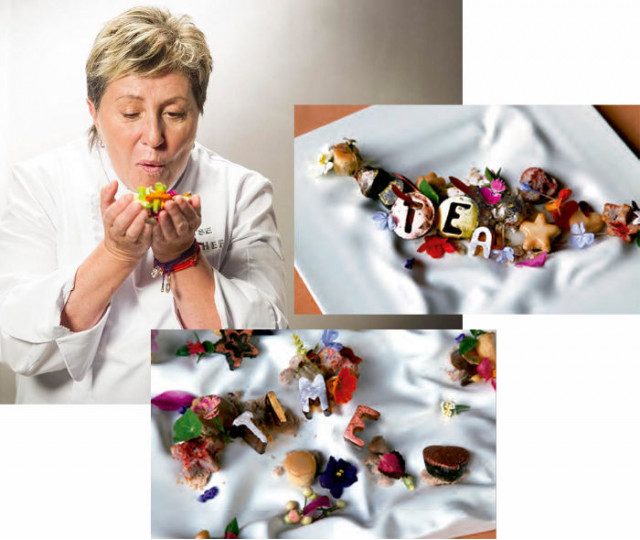 Montse Estruch likes what we do and how we do it. So much, that he has put a few hours in the kitchen of El Cingle to create desserts with varieties of THAT'S TEA.

Montse Estruch is an expert in sensation gastronomy. Meet his restaurant: www.elcingle.com.

Open your eyes, prepare your palate, sharpen your ear, take a deep breath and touch. Touch everything you want. This dessert
HEARING
 
WHAT A FEELING: THE CRUNCHING SOUND OF FINANCIERS

- 45 gr. of egg whites.
- 50 gr. of sugar luster.
- 5 gr. of invert sugar.
- 45 gr. of clarified butter about hazelnut.
- 25 gr. of almond powder.
- 5 gr. of hazelnut powder.
- 2 gr. of tea What a Feeling.
- 3x5 cm flexipan molds, cylindrical

ELABORATION

Heat the oven to 180 gr. Beat the egg whites with the sugar and add the invert sugar. Add sifted almond powder and butter at 80º temperature. Fill the flexipan molds that we will have painted with a mixture of sweet and salted butter about to hazelnut.
Cook for 7 minutes with the oven at 160º.

TOUCH

CHRISTMAS SECRET: LETTERS THAT APPEARS TO TOUCH

- 1 l. of water.
- 80 gr. of Christmas Secret tea.
- 50 gr. of powdered vegetable gelling agent (optional Agar-Agar: 3 gr. per liter of liquid).

ELABORATION

Infuse the tea at low temperature and add the sugar, let it temper and add the gelling agent. Place the mixture on the fire and let it simmer and dissolve the gelling agent. To finish, pour the mixture into a rectangular mold and let cool. Cut with the molds of the letters TEA TIME.

TASTE

CHOCO&ORANGE: STARS IN YOUR PALATE

- 125 gr. of butter.
- 125 gr. of sugar luster.
- 125 gr. of eggs
- 25 gr. Of flour.
- 4 gr. of chemical yeast.
- 10 gr. by Rooibos Choco & Orange.

ELABORATION

Leave the butter cut into small pieces in a bowl until it has ointment consistency. Add the luster sugar, the eggs one by one and at the end, the flour with the yeast. Add the tea, mix everything and fill the cake molds. Cook it with the oven at 180º for 25 minutes. Let cool and cut with the desired shapes.

SIGHT

CINNAMON ADDICTION: A GIFT FOR THE VIEW

- 30 gr. of ointment butter.
- 30 gr. of sugar.
- 30 gr. of almond powder.
- 120 gr. of sugar luster.
- 250 gr. of pastry flour.
- 100 gr. of egg yolks.
- 10 gr. of Cinnamon Addiction tea.
- 2 drops of rose essence.
- 20 gr. of rose marmalade.

ELABORATION

Mix the ointment butter with the sugar and add the almond powder, the luster sugar, the flour, the Cinnamon Addiction and the drops of rose essence. Spread everything on a tray and bake it for 15 minutes at 180º until well browned. Once cold, crush it and if you want a finer texture, pass it through the sieve. Mix with the rose marmalade.

SMELL

TRUFFLE LOVERS: DELICATESEN FOR THE SMELL

- 600 cc of liquid cream.
- 800 gr. of Valrhona milk chocolate.
- 20 gr. from Rooibos Truffle Lovers.

ELABORATION

Boil the cream, add the rooibos and let it infuse for 1 hour. Strain it and reheat the cream, to which you must add the chocolate cut into very small pieces. Emulsify well in order to make some small chocolate bubbles.
Comments
No comment at this time!
Leave your comment